December:
​
13 Gala
18 - 22 Exam Week
23 - 07 Chirstmas Break!
January:

​
​
8 New Years Borrel
12 - 21 Ski Trip
22 Borrel
23 - 24 Editing Course
Off-Screener in the Spotlight //

Maryam
This girl is new to Off-Screen and already spreading the love. Since our Winter Wonder Weekend to Prague her smile is seen more and more at Off-Screen events. From bringing possible new first-year students to 't Hok, to dancing her heart out at the borrels. Maryam is here to stay and we're grateful for that. Here's to you Maryam!
Coming events, merch and other fun stuff in a quick overview.
Off-Screen 007: Casino Royale Gala
It's almost time for Off-Screens Gala in the theme of Casino Royale. (Bond) girls and boys get ready for a night at the casino, roll the dice and see how lucky you'll be this

Wednesday, december the 13th.

See the teaser above to get into the mood.
Study Sessions w/ Off-Screen
Would you like a little help to get ready for your coming exam? Off-Screen is organizing an extra lecture for the course Media Culture in Transformation and will be given by Toni Pape. On Friday the 15th of December from 15:00 - 17:00 in classroom D1.09. This lecture will be an overview of multiple theories and the hardest terms. If you want to join, you can sign up via the link here.
The beanies are on their way but there is already some new merch to add to your collection! The new Off-Screen sweaters are available for pre-order. This limited edition sweater is the final touch on every look you'll serve this coming winter. Not to forget the fact this it will also keep you warm these cold days.
You can order yours until 15 December.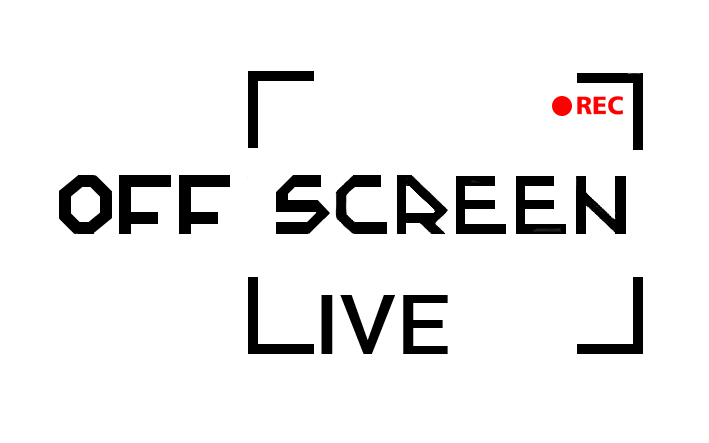 Off-Screen Live is back online! In case you've missed anything, no need to fret. Here the chance to catch up on everything the Reporter Committee produced.
Off-Screen Live was present at this years Halloween Borrel. We went ahead and recorded some of Off-Screens mayhem that occurred during the evening. See the video above to watch all the ghastly fun.
Portrait of an Off-Screener: Passion #1:

Rana Farag
Get to know your Off-Screeners with this new in-depth series of interviews conducted by the Reporter Committee's own Vera Kruip. Each interview is centered around a specific theme, with passion being the first word. Click on the image to read the full interview!
Beautifully Boozed //
Charlie Brown
It is all around us, ever-present, yet we tend not to comment on it. We see it on TV, we hear it on the radio, we stream it, we impose it on ourselves, we subconsciously embrace it; at least most of us. Your 5-year old nephew can get absorbed by it, your 70-year old grandma probably in some sense already is. As are you and I. It is not capitalism I speak of, nor is it sex in media or some other ubiquitous phenomenon. It is the romanticisation of substance abuse, and alcohol in particular.

..
​
Santa's Booklist

​ //
Rana Farag
Are you wondering what to read for the coming holidays or want to gift someone a book this Christmas, Hanukkah or Kwanzaa? Reporter Committee's own Rana Farag has got you covered with this booklist with 3 books that will fulfill any readinglust you might have.
​
Cheers to Fantasea //
Scarlett Grados
Ahhhh the first off-screen party, the one an off- screener remembers dearly and the one you usually never forget... or so I thought. With the cold weather, the only thing keeping us warm are the memories of great times, intoxicated nights and good music. So let's warm up and dive into the night of Fantasea!
After all, mornings are made for tea and contemplation...
A lot of things happen within and out of Off-Screen, so sometimes it can be a bit impossible to attend every event. With these tips and reviews you'll always know where to go and what you've missed!
When in Prague //
Britt Hoencamp
In the very early morning of the 9th of November, 50 lucky Off-Screen members gathered in front of the Victoria hotel ready to embark on a weekend full of wonders. Armed with coffee, good spirit, and most importantly: beer, the trip was off to a great start. However, traffic gods disagreed, making our 11 hour long trip a 14 hour long one, ending at 11 p.m. at our hostel in Prague...
​
Winter Efteling //
Imge Erdural
Please raise your hand if you've ever felt personally victimized by Holle Bolle Gijs.
​
The greedy bastard just keeps sort of passive aggressively shouting at you to put your, "papier hier". No but really, as someone who has lived her whole life in The Netherlands but never had been to the Efteling before - I was kind of psyched to finally see what all the fuss was about. And I was most definitely not disappointed. Could we just consider the Efteling to be the Disneyworld of The Netherlands? Cause honestly, winter in The Netherlands can get rather shitty. Snow? Nah, how about some wet mush with loads of rain and freezing temperatures. So winter can't really get better in The Netherlands than looking death in the eye before 90 degree drop in the Baron whilst you freeze your ass off, stuffing yourself with broodjes Unox, warming up with hot cocoa or glühwein and enjoying an enchanting trip in the droomvlucht. I mean the Efteling is kind of magical and it just gets better when you're visiting on a Tuesday – 'cause fuck queueing – with your favourite Off Screeners.
Off-Screen Tip:

Dutch Silent Film Festival
Media students pay attention! The Dutch Silent Film festival is coming Eindhoven and as media-students we get a discount. For €40,50 you get to see all shows and movies. During the DSFF you get the chance to watch old silent movie classics accompanied by live band music with lectures about the old movies themselves. Specialists in the fields of film, history and music come together to make sure everybody will fully experience the silent movies in all their glory. You can check their site for more information.
​
Black Mirror - 29th of December
Black Mirror is back for another season and this show is a must watch for every media student walking this very globe. Black Mirror shows us the possibilities of a future in media by creating a different media distopia every episode. Safe to say that we have Mark Deuze's stamp of approval for bingewatching this show.
Friends ALL Seasons -1st of January
It's finally happening! All seasons of Friends are coming to Netflix. I repeat, all seasons (yes all 10 of them) are coming to Netflix for our entertainment. Luckily during our Christmas break.
Big Mouth - Online now!
This show is absolutely amazing. The crude, somewhat dark and heavily exaggerated humor will keep you laughing and shook for the entirety of the show. Big Mouth revolves around pre-teens entering puberty with all of its awkwardness.

It's an easy and quick binge you must experience. If you don't know what to watch these coming days, Big Mouth will have you covered.
The stars and moon know more than they have led on, here is some guidance and advice which is wise to follow! Artwork by Rinaldo Por.
Saggitarius // Nov 22 - Dec 21
New responsibilities and new challenges await you! Take them head on because your ruling planet Jupiter is in charge this month. The spoils go to the victor and that happens to be you.
Aries // Mar 21 - Apr 19
Something fun this way comes. Surprises and presents await you coming holidays. Just wait and see.
Capricorn // Dec 22 - Jan 19
The cold can be challenging but you must stay strong Capricorn. Curl up with one of your faves and just savor the peace.
Taurus // Apr 20 - May 20
A lot has been on your mind and your emotions have been playing Russian roulette, relax and unwind Taurus. Take the holidays to reflect and most importantly enjoy.
Aquarius // Jan 20 - Feb 18
There is something bubbling in the water. Time to stop resting and se

ize opportunities. Dive in the deep because you we know you won't drown.
Gemini // May 21 - Jun 20
There are some tough conversations coming your way and tough decisions to be made. But my dear Gemini, remember the stars, your friends and the universe is here for you.
Pisces // Feb 19 - Mar 20
Holiday season is coming up Pisces and your endless enthusiasm is getting infectious. Keep on spreading the holiday cheer and show your love! The stars thank you.
Leo // Jul 23 - Aug 22
Roar proudly Leo, you've fought for your spot and now you're here to stay. No need for modesty.
Cancer // Jun 21 - Jul 22
You're ready for the holidays and we totally understand, we are too. You deserve the rest and most importantly all the food coming your way.
Virgo // Aug 23 - Sep 22
It is a powerful time to be a Virgo. Reflect on the past year to see what changes you'll want to make for 2018, since coming month you and your energy will be flexibel.
Libra // Sep 23 - Oct 22
So many Christmas dinners and so little time. The scales of balance are way out of order and you love it Libra. Don't look back to the haters, you never liked them anyway.
Scorpio // Oct 23 - Nov 21
Focus on whats coming, 2018 is filled with endless possibilities. I don't want to spoil too much, but the stars feel like it might be your year!