In my perfect life I would wake up around six am, drink a warm cup of water with some lemon and other spices before going  jogging in the park. After my earned hot shower, I'd put on classical music, make an empowering breakfast and put on an even more empowering garment. Of course there would be a newspaper involved, my makeup would look flawless, I 'd have finished all of my e-mails and it's not even nine o'clock. Told you, this dream sounds pretty perfect. And it's normal to feel like you should be the most active person alive before the sun comes up. Pioneers like Steve Jobs, Oprah Winfrey and the whole shebang (probably Beyoncé too) are / were morning people. With classes starting around nine and work starting sometimes even earlier, it seems like society is telling you to wake the fuck up before noon.
Why I am writing this? Because I'd like to tell you why it is okay not to be a morning person and you won't be a failure if you love to sleep in late.
DISCLAIMER
I am not telling you to stay up all night and to get sleep deprived. Give your body the well deserved rest it needs!
1. If you know you aren't productive before, let's say, 11 AM - don't plan your classes earlier. You will be the very tired looking student in class, with bags under your eyes that are bigger than those big blue Ikea ones. You will be yawning all the time and the professor will think you are a complete mess (which you probably are, because your brain is still trying to comprehend what is happening in front of you).
2. You won't get stuck in traffic, or travel with discount on the train, you don't have to squeeeeze yourself into a full moving vehicle. All is nice, all is great and it's even warmer outside in the afternoon! Yay.
3. Admit to the people around you that you simply cannot function before noon. They get it, trust me. My friends and colleagues know that I for instance, can be a complete bitch when hungry, so now they take it into account. It's just an example of how understanding the human being can be sometimes (surprising isn't it?!).
(I really don't know what this is, but it's cute and it's tiny and it's fluffy)
4. Night owls actually have a different brain structure than morning persons. Yes my friends. You actually can't help it.
5. Huffington Post said the following: Stay-up-late types, according to research, achieve greater financial and professional success on average than those people with earlier bedtimes and wake times.
Well ka-ching ka-ching! Besides, Charles Darwin was a night owl and so was Winston Churchill. Heck, even Obama is a night owl.
6. Nightowls tend to be more creative. And since we are media students, I think I already made my point...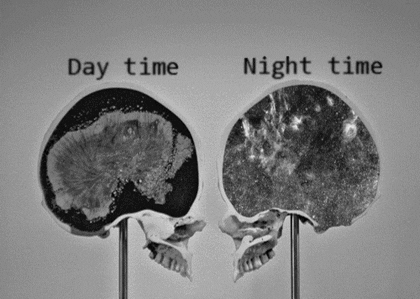 7. Ahh, we even have our own society. Yes, I am dead serious! The Night Owl Society is dedicated to creatives who like to work more at night than during the day.
8. You are not Cinderella. Your life won't dramatically change after twelve. So, it's okay to stay up late. 
My plan from now on? Embrace the fact that I don't like mornings (they are a bit depressing to me) and that I can go out for a midnight run instead of hanging out with the early birds at the park. It's okay if I prefer my meetings in the afternoon and it's okay wanting to find a job where I can set my own hours. And if you are not a morning person, you should be happy with yourself too!
Please reload